Friday, June 12, 2015
Bloomex Provides Roses for Global Morning Show
Bloomex Canada was proud to be asked, and pleased to provide, the prize for a recent contest held on Global TV's The Morning Show.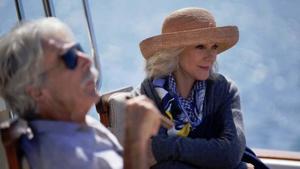 Movie and stage actress Blythe Danner provided an interview to Global TV recently to help promote her amazing new movie. Danner stars in I'll See You in My Dreams, alongside such veteran stars as Rhea Perlman, Sam Elliott and Martin Starr.
Danner spoke with familiar Global News personality Liza Fromer about the movie and the experience of making it. Danner discussed how it was to work with her co-stars, and has shared how her movie character parallels her own experience of widowhood following the loss of her husband Bruce Paltrow (father of actress Gwyneth) almost thirteen years ago.
The movie is garnering some award buzz and very positive reviews for Danner's shining performance as Carol and for its sensitive and endearing treatment of aging, love and loss. Read a review to learn more about this lovely film and how Danner "knocks it out of the park."
During the interview, The Morning Show ran a contest for "free roses for a year" and Bloomex was asked if we could possibly provide the prize. We were happy to help! Congratulations to winner Trish H. of Ottawa She will now enjoy a dozen beautiful, plump, long-stemmed roses every month for a whole year!
Bloomex also gave away some free movie passes as part of a fun contest for Bloomex customers. Read the contest blog to find out more. If you haven't seen the movie yet, put it on your list and check out this wonderful story.